"Two years before Beatrice Prior made her choice, the sixteen-year-old son of Abnegation's faction leader did the same. Tobias's transfer to Dauntless is a chance to begin again. Here, he will not be called the name his parents gave him. Here, he will not let fear turn him into a cowering child.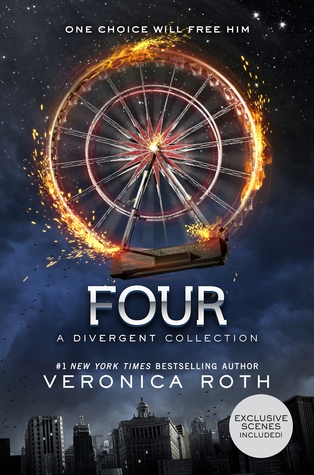 Newly christened "Four," he discovers during initiation that he will succeed in Dauntless. Initiation is only the beginning, though; Four must claim his place in the Dauntless hierarchy. His decisions will affect future initiates as well as uncover secrets that could threaten his own future—and the future of the entire faction system.
Two years later, Four is poised to take action, but the course is still unclear. The first new initiate who jumps into the net might change all that. With her, the way to righting their world might become clear. With her, it might become possible to be Tobias once again."
This isn't a review so much as a quick note, as the book is ridiculously short, but it felt like a crime not to mention it after all my raving about the Divergent Trilogy, so here goes. I adored this. I didn't particularly enjoy the foray into Tobias' perspective in Allegiant – I mentioned that I found it too similar to Tris' voice – but this book was brilliant. It's split into four parts. Each are relatively short, with the whole book totaling something like 300 pages – nowhere near the length of Divergent, which (I think) is the shortest of the trilogy.
The book is made up of The Transfer, The Initiate, The Son, and The Traitor,as well as a couple of short excerpts. They show Tobias' life with Marcus, his transfer to Dauntless, as well as a bit about how he was offered the position of Dauntless leader. The final snippet is about Tris, and it takes place during the Divergent timeline.
Although I really enjoyed them, it felt almost like a draft of a book – even more so when you think about how Roth originally planned for the trilogy to be from Four's point of view. I felt like she could have done a lot more with it. Otherwise, though, it's a must-read for fans of the Divergent Trilogy. I think the snippets are also available as separate eBooks – but it's really satisfying to see all four books together on your bookshelf!
@EeshaGrover – Reviewers twitter handle
Facebook – Reviewers facebook page
Author Veronica Roth's BLOG
Movie clip of the character "Four" of FOUR: A Divergent Collection
Get your own copy from AMAZON
Four: A Divergent Collection WIKI